Hello Folks,
I've been fairly late with an update on the progress of the PC version, so I want to give a quick peek at what I'm working on.
The Plan
Right now the goal is to get Deadburg into Steam Early Access on Windows next year.  Hopefully sooner rather than later, but there is still a good amount of work to do in order to make that happen, so I don't have a solid ETA at the moment.  I don't have anything to announce in regards to other platforms at the moment.   I do still want to bring it to other platforms (Like consoles) but until I have the game running on them I don't want to announce anything.
What's Happening Now?
So the current focus is updating Deadburg to take advantage of the PC.  Right now I'm focusing on improving look of the game, now that I no longer have to worry about getting it to run on an Xbox 360.  Two of the big changes you'll see in the PC version are real time shadows, and dynamic lighting.
Real Time Shadows
One of the things I really wanted to get in the 360 version was real time shadows. The tall buildings/trees really don't pop when they aren't casting huge shadows over the terrain.  The PC version will include them, and I think it makes a pretty big difference.  Here's a comparison shot from the PC version (Note this is still in development, so it may look different in the final version).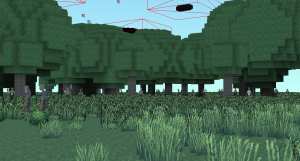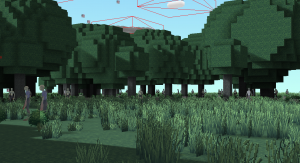 Dynamic Lighting
One of the often request features in the 360 version was flash lights.  Unfortunately I couldn't get a dynamic lighting system working without really harming performance.  The PC version now has a system enabled, so you'll be able to have flash lights, and other moving lights, along with the static lighting in the game atm.  I don't have a good screenshot to show this off, but it is in game now so I can commit to it being in the PC release.
Going Forward
I'm going to try to provide semi-regular updates to the status of the PC release.  If you want to be a part of the private beta (Which is still a ways off, but will be happening) then be sure to sign up for the mailing list.